Diploma Programme curriculum
Programme model
The curriculum is modelled by a hexagon with six academic areas surrounding the three core requirements.
http://www.ibo.org/diploma/assessment/documents/DPAssessmentPrinciplesandPractice.pdf
Theory of knowledge belongs to the core of teh Diploma programme adn is a course designed to encourage each student to reflect on the nature of knowledge by critically examining different ways of knowing (perception, emotion, language and reason) and different kinds of knowledge (scientific, artistic, mathematical and historical).
The TOK presentation
Students must make one or more individual and/or small group presentations to the class during the course. The maximum group size is five. If a student makes more than one presentation, the teacher should choose the best one (or the best group presentation in which the student participated) for the purposes of assessment.
The TOK presentation requires students to identify and explore the knowledge issues raised by a substantive real-life situation that is of interest to them. Aided by their teachers (see below), students can select the situation they will tackle from a more limited domain of personal, school, or community relevance, or from a wider one of national, international or global scope.
It is important that the situation that is selected is sufficiently circumscribed, so as to allow an effective treatment of knowledge issues. For this reason, it is wise to avoid topics so unfamiliar to the class that a great deal of explanation is needed before the underlying knowledge issues can be appreciated and explored.
Presentations may take many forms, such as lectures, skits, simulations, games, dramatized readings, interviews or debates. Students may use supporting material such as videos, MS PowerPoint presentations, overhead projections, posters, questionnaires, recordings of songs or interviews, costumes, or props. Under no circumstances, however, should the presentation be simply an essay read aloud to the class.
Each presentation will have two stages:
an introduction, briefly describing the real-life situation and linking it to one or more relevant knowledge issue

a treatment of the knowledge issue(s) that explores their nature and responses to them, and shows how these relate to the chosen situation.

(Retrieved from IB website www.ibo.org 7/12/10 at 9:30 and IBTOK guide for exams 2008)
Some photos taken during the last TOK presentation 6/12/2010:
TOK presentation title: AIDS Mostafa Ehab Youssef and Ahmed Salah
TOK presentation title: BIRTH CONTROL Rawan Mamdouh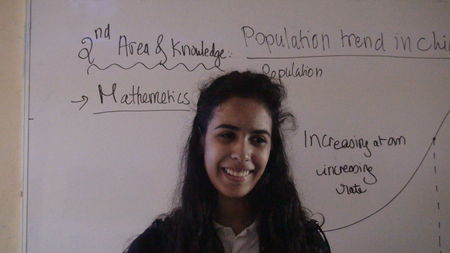 TOK presentation title: TERRORISM Nourhan Nassar - Soumeya Hashab - Nadine Sabry
The audience: DP1 students and teachers attended the TOK presentation
TOK presentation title: Sex reassignment Rania Shérif - Mariam El Sherbini - Nadine Selim - Malak Enan