We are very proud to announce that the fourth promotion of GPIS students have been graduated this year 2010-2011.
The 21 students have been awarded a bilingual IB Diploma.
100% of success!
The results are excellent!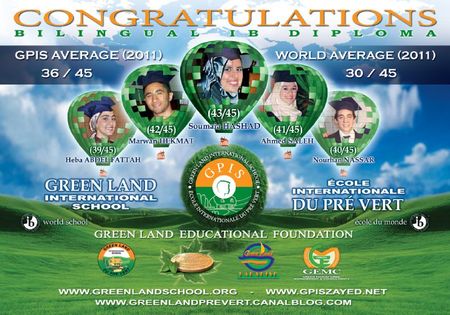 Brilliant scores!
The world average is 30/45
GPIS is 36/45
Assessment
Students take written examinations at the end of the programme, which are marked by external IB examiners. Students also complete assessment tasks in the school, which are either initially marked by teachers and then moderated by external moderators or sent directly to external examiners.
The diploma is awarded to students who gain at least 24 points, subject to certain minimum levels of performance across the whole programme and to satisfactory participation in the creativity, action, service requirement.
The highest total that a Diploma Programme student can be awarded is 45 points.
///////////////
Nous sommes très fiers de vous annoncer que notre quatrième promotion d'élèves à GPIS a reçu leur baccalauréat au cours de cette année scolaire 2010-2011.
21 élèves ont reçu un diplôme bilingue du IB.
100% de succès!
Les résultats sont excellents!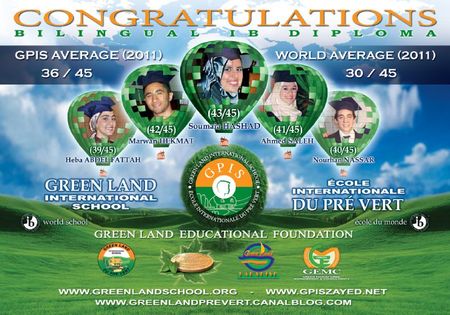 Des scores brillants
La moyenne mondiale est de 30/45
à GPIS : 36/45
Évaluation des élèves
À la fin du programme, les élèves passent des examens écrits qui sont notés en externe par des examinateurs de l'IB. Les élèves doivent par ailleurs effectuer des tâches d'évaluation en classe qui seront soit préalablement notées par les enseignants de l'établissement avant d'être révisées par des réviseurs de notation externes, soit envoyées directement à des examinateurs externes.
Le diplôme est décerné aux élèves qui obtiennent un minimum de 24 points, sous réserve qu'ils obtiennent certaines notes minimales dans toutes les matières du Programme du diplôme et qu'ils participent de manière satisfaisante au programme de créativité, action, service.
Le total maximal de points pouvant être attribué à un élève du Programme du diplôme s'élève à 45.