Great Bairam celebration, Thursday 3 November 2011
Last Thursday November 3, 2011, a lovely party was held for the Aid, the celebration of the great Bairam in the auditorium of the school.
All PYP students participated in the show. The older students prepared short plays and sketches to illustrate what the Pilgrimage, the duties and responsibilities of the Muslims are when they go to "Hajj".
It was presented in a funny manner and it was so enjoyable for the audience. Mrs Rania is so creative !!!
The great Bairam is a celebration for all, so previous to the party bake sale have been organised by the PYP students to collect money to buy sheep and meat for the poor.
Poor people cannot afford to buy meat during the year and unfortunately are only able to eat meat during the Eid celebration.
PYP students collected a lot of money and could buy up to four sheep, which was amazing as we were never able to reach that amount of money. Students demonstrated care, integrity and were very responsible in running the bake sales as well as the entire event.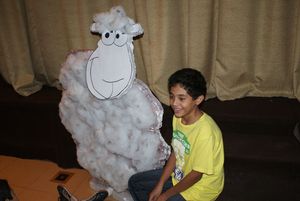 LA FÊTE DE L'AID, Novembre 2011
Jeudi dernier, le 3 novembre 2011, une très jolie célébration a été organisée pour l'Aid, le grand baïram à l'auditorium de l'école.
Tous les élèves du PP participaient au spectacle. Les plus âgés ont fait du théâtre et présenté des saynètes qui illustrent ce qu'est le pèlerinage, quels sont les devoirs et responsabilités du musulman lorsque qu'ils se rendent au « Hajj »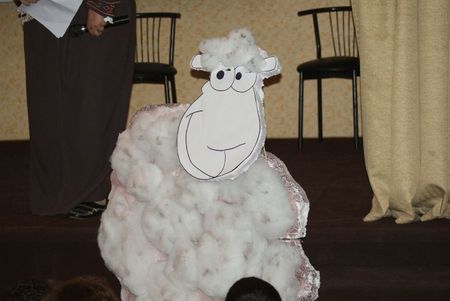 Ce fut présenté avec beaucoup d'humour et d'ironie, Mme Rania est tellement créative.
Le grand Baïram est une fête pour tous, afin de rendre cette fête accessible à tous, tous les élèves du PP ont organisé des ventes caritatives de gâteaux et de nourriture pour pouvoir acheter de la viande pour les pauvres. Malheureusement trop nombreux sont les pauvres qui ne mangent de la viande qu'aux fêtes et qui n'ont pas les moyens de s'en offrir régulièrement.
Les élèves du PP ont ramassé la valeur de quatre moutons ce qui est ahurissant, nous n'avons jamais pu ramasser autant d'argent en une seule fois.
Les élèves se sont montrés soucieux des autres, bienveillants, intègres et responsables au cours des ventes caritatives et pendant la fête de jeudi.